Why does my default printer keep resetting?
Reckon FAQs
Reckon Staff
Posts: 700
✭✭
Sometimes Hosted forgets what your default printer is and if this happens, when you start a new session Hosted will automatically select the first printer in the list.
Our Product Development team is currently investigating this however in the meantime I have a couple of tips you can try that have been successful for a number of our customers:
Delete your print files
Head to the Accounts Hosted login page, select the 
Manage my account
option and log in.              
From the provisioning page
Click Delete Print File
     


Click the Delete Print File button to the left of your User ID

The page will take a minute or so to refresh - once this occurs you will see a red notification that says 
File Deleted
.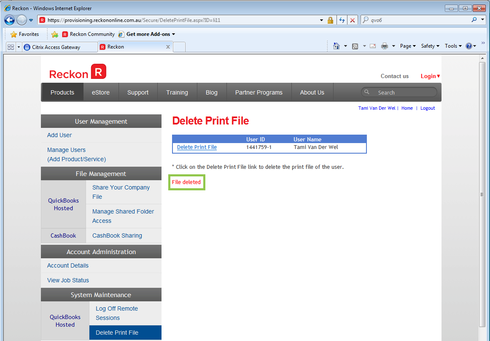 If deleting your print file doesn't work, try this:


Change your printers name

Add the letters AA at the start of your printer's name. This will make sure your preferred printer will always appear at the top of your Printers & Devices list. 
Need more help?
Start your own conversation!
This discussion has been closed.