Setting up Reckon BankData for Accounts Business and Accounts Hosted
Reckon FAQs
Reckon Staff
Posts: 700
✭✭
Reckon BankData is a service to allow Reckon Accounts users to directly access the transactions in their nominated bank and credit card accounts.
This process replaces the need to access the bank's website and create a QIF file to import into Reckon Accounts.
Users require a Reckon Accounts Accounting and higher, 2014 and later product, or a current Hosted licence. 
Once the Bank Feed is established users will need to allocate or match bank entries to their bank ledger account in Accounts Business in the same way a QIF import is allocated or matched. 
BankData provides 2 channels to access bank transactions.
Direct Bank Feeds

These are highly secure feeds for bank accounts between your Bank and Reckon and are available for:
A limited number of banks offer direct feeds to credit card accounts for some of their credit card range. These include:
ANZ – Business One series
Applications require a signed bank authority form that will be submitted to the bank for approval.  This process will take up to 8 days to complete.
Yodlee Feeds

A wide range of banks and credit card institutions are available by our alternate channel provided by Yodlee Inc – see our list of currently supported financial institutions. This is a less secure but more flexible internet based connection that can access your accounts, extract transaction information and deliver them to your BankData record.  Yodlee Inc will ask for and keep securely your financial institution internet login credentials to use daily.
SETTING UP BANK FEEDS

Click here for a
video guide
on this section



Purchase a BankData Licence

Go to
bankdata.reckon.com
and click on
Activate
Enter your Reckon ID and PIN; or, your Hosted Username and Password
Select a plan:
Lite
- up to 100 transactions/month: $3/month
Medium
- up to 250 transactions/month: $5/month
Advanced
-up to 500 transactions/month: $7/month
Custom
- Advanced + $3/month/per 250 transactions
And complete the purchase on the online shop.
You will receive an email with your UserID (1243567-1), username and password. 
Hosted users will use their Hosted credentials as all Reckon Online products use the same credentials.
You can use the one BankData licence to provide bank transactions to more than one company file. However, transactions can only be downloaded once so you link one bank account to one bank ledger account in whatever company file.

Nominate bank and credit card accounts to access
Login to
Bankdata.reckon.com
to open the Bank Feed Management screen.
Click on Add Feed and enter basic bank/credit card information from the dropdown options.
Choose your Bank from the Direct list, and if your bank is not listed there, find it in the Yodlee list.

For Direct Feeds 
Enter your bank account details and follow the directions to print out a bank authority form. 
Sign this form in accordance with your signing authority with bank and send to Reckon at

[email protected]

. (CBA customers must post the original form to the postal address specified). 
Allow 8 business days to process your application.  You'll get an email from us once we have received the first transaction for your account.
For Yodlee Feeds
Enter your financial institution internet bank login details. 
Wait a few minutes as Yodlee verifies your details – with some institutions you may be required to enter a security code sent you.
Wait a few more minutes while Yodlee prepares initial transactions information for you – this will be up to 3 months worth of transactions. 
Please note that Yodlee will access all bank account or all credit card accounts available on this login. You only need one Yodlee connection per bank, although you will need separate Yodlee connections for bank accounts and credit card accounts.  
Once confirmed you will be able to download and work with your bank transactions immediately.
You will also receive an email confirming this entry and the YodleeID that pertains to this entry which you will use in configuring your company file.
You can view the contents of your BankData Record on the Bank Feed management screen:
The Status column will show the state of your entry:
Saved – bank orcredit card details have been entered;
Form with Bank –a form has been received and passed onto the bank
Active – transactions are being received for this account
Authentication Required – Yodlee requires an updated security code to access your account (click on the link to re-enter credentials)
Yodlee Error – a technical error was encountered when Yodlee last tried to update your accounts (click on link to re-enter credentials).

CONFIGURE YOUR COMPANY FILE TO RECEIVE BANKDATA TRANSACTIONSSet Banking Preferences

Click here for a 
video guide
 for the rest of this process
Once the sign up process is completed, you'll need to enable BankData in Reckon Accounts:Open Reckon Accounts and your company file.
Go to the Edit menu and click Preferences.
Click the Company Preferences tab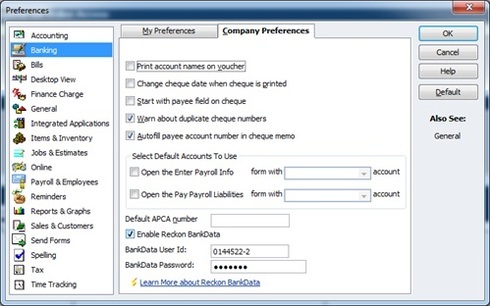 Click
Enable Reckon BankData.
Enter the BankData User Id (eg: 1234567-1; do not use your username here)
Enter your BankData password.
Edit your bank ledger account

Go to the Lists menu and click Chart of Accounts.
Right-click your bank account or credit card account and then click
Edit Account
.
Click the
Online Banking Details
tab:
For a direct bank feed


Click Online Access Account.
Select your Financial Institution.
Enter your 6-digit Branch Code. (numbers only, no spaces ordashes)
Enter your Account Number. (numbers only, no spaces or dashes)
Tick the box Include Balance Record
APCA field: if you have an APCA number enter it here,otherwise enter 111111
ANZ Business One Credit Card by Direct feed have a variation:
In the Branch Code, enter 6 zeros: 000000;
In the Account Number field, enter 3 zeros plus your 16-digit Card number

NZ Bank Accounts

New Zealand bank account numbers have a different structure to Australian bank account numbers. The way your bank account appears in your BankData record may have been modified since you entered it in Add Feed with an extra 0 for the suffix. Each bank is different so check your Bank Feed Management screen - 0123456
25
may now appear as 0123456
025
.


For a Yodlee feed
Information is entered in the same way as for Direct Bank Feeds with the inclusion of a YodleeID notified to you on your confirmation email and visible on the Bank Feed Management screen.
Some institutions vary how they display the bank, credit card and Branch Code numbers. Check here whether your financial institution has a unique display of account numbers that you will need to use in this section.
With Credit Cards Yodlee adds further security by masking part of your credit card number, if your financial institution has not already done so. In all other circumstances enter your credit card numbers in the format: 5432-98xx-xxxx-1234.
Please note that for Corporate Credit Cards, the singular Credit Card Account Number will be used instead of individual Credit Card card numbers.  
Click Online Access Account.
Select your Financial Institution.
Enter a Branch Code. - your bank's BSB or Bank Branch number,(for credit cards 123456 will be sufficient)
Enter Account Number - your bank account number, credit card number or credit card account number, as it appears on your bank's internet portal. 
Tick the box Include Balance Record
APCA field: if you have an APCA number enter it here,otherwise enter 111111
Enter your 8 digit Yodlee ID in the Yodlee ID field.
Import your bank transactions

Go to the Banking menu and click Online Banking Centre.
Click
BankData Import

Select the Account from the drop-down menu to import. (Bank details will populate automatically according to the configuration in Chart of Accounts.)
The Transaction Summary window will open.
Click Continue
Select Import new transactions now.
If you select Save transactions to a file, the transactions will be stored in a QBO formatted file which you can later import through the File > Utilities > Import > Web connect files option.
You will be asked to confirm the bank account for this download.
Click on
Use an existing Reckon account
and then click on Continue.
The transactions will be downloaded and show in the
From Bank
section of the Online Banking Centre window with the name: Bankname FastStatement –dd/mm/yyyy
If you want to make another import from your bank account, click on BankData Import. If you are importing from the same bank account then the second download will be added to the first. If importing for another bank account a second file will appear.
Once data has been downloaded from the bank it cannot be downloaded again.
Yodlee connections requiring an additional security code (MFA)
Where a freshly generated additional security code is required to access the financial institution website you will have to refresh your Yodlee link with the new security code before you can download the next batch of bank transactions.
Login to
Bankdata.reckon.com
and click on the Authentication Required link for your connection:
Enter your financial institution login credentials Enter your security code when asked
Wait while Yodlee updates your transactions from its previous update.
When complete you can now follow the steps above to import your transactions into your company file. 
Allocating transactions to your ledger accounts
Click here for a
video guide
on this process.
On the Online Banking Screen, with the imported BankData file in the From bank section, click on
View

Use the Downloaded Transactions functions to process the transaction.
Process Rules by selecting one Rule and clicking Add Multiple using Rules of Add Rule
To enter the transactions as a new payment or receipt click Add One to Register.
The options here will depend on whether the transactions is a deposit or payment.
Please note that a Register entry does not allow a tax code to be added to the transaction.
Click OK and enter the transaction as you normally would in Reckon Accounts.
To match the transaction to an existing entry:
Select the transaction in the Bank Register in the top half of the screen
Select the imported transaction in Downloaded Transactions section.
Click on the Match button.
Other Notes 
If you cannot finish the import of transactions in one session, the rest of the file will still be available in future sessions.  
Once data is downloaded from the bank for a particular date range, you cannot download that date range again.
See the following video guides for using Transaction Rules: