How to create a backup in Reckon Accounts (Desktop)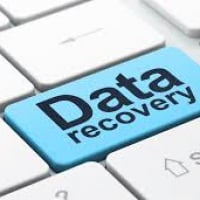 Data Rec
Reckon Staff
Posts: 816
✭✭
Follow the steps below to create a backup file which is stored on your local computer.
With your company data file open in the Reckon Accounts program.
1. Click on the 
File 
menu > 
Save Copy or Backup
2. Select 
Backup copy 
and then click the 
Next 
button
3. Click on the 
Options
 button to display the
 Save Backup Copy:Options
 screen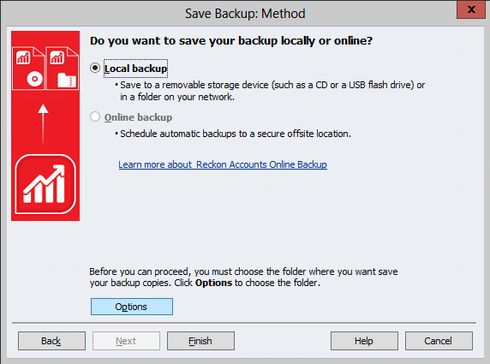 4. In this screen you can choose the folder location to which the backup file will be stored.
You may have for example an external hard disk drive or a specially designated documents folder where you prefer to store your data files and backup files.
You need to decide where you want your backup sets stored.
For your daily or regular backup procedure, we recommend that you select the "
Complete verification
" option and then click the 
OK 
button to return to the 
Save Backup: Method
 screen
·         For those times when you are performing a 
pre-verification backup
as part of an investigation into a potentially damaged data file, we recommend that you select the 
No verification (not recommended)
 option and click the 
OK 
button
6.      Once you are back in the 
Save Backup: Method
 screen, click on the 
Finish 
button to proceed with and finalise the backup process.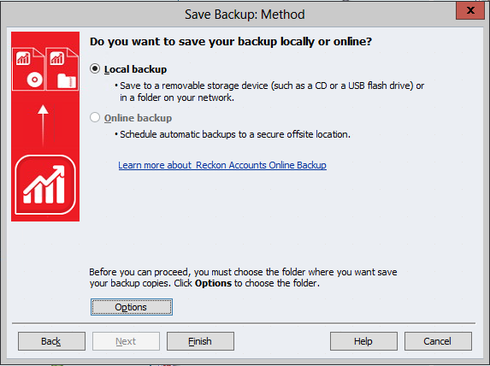 7.      Once the backup has completed you will be prompted with a similar message prompt as shown below. Click the 
OK 
button
8. We recommend that you also regularly keep a secondary copy of the backup which you could store on an online file storage service (online backup) or to an external portable hard disk drive or high capacity USB flash drive.
* Data Recovery Team *
Regards,
Reckon Data Recovery Team
You can request assistance via the case request web form below.